Paddle to the Seals
Our amazing daily morning tour. To the seals we go! We paddle by dozens of islands on the way and skirt picturesque fishing villages and settlements.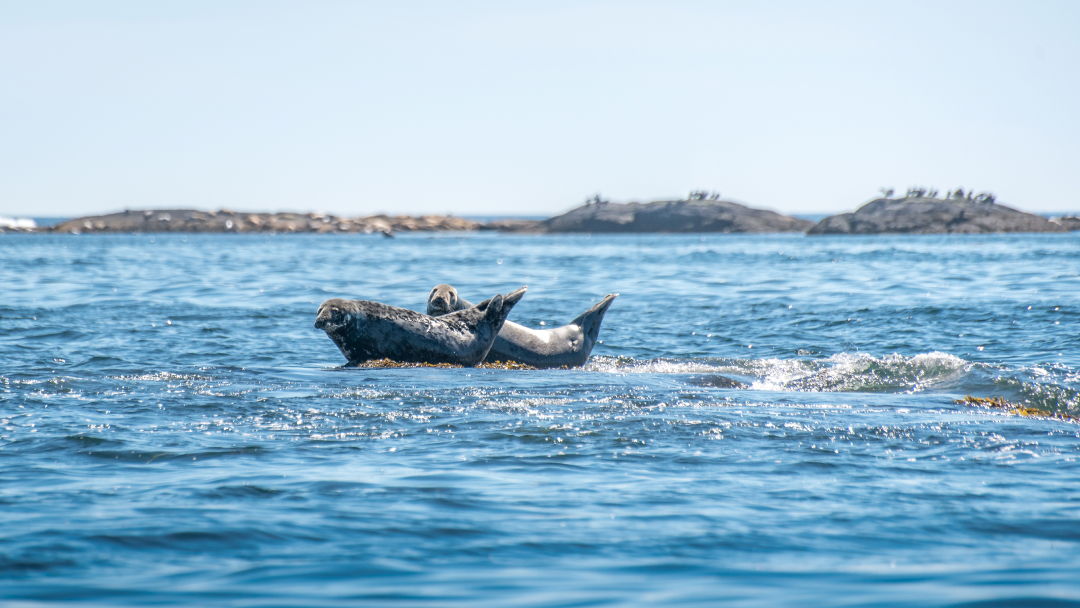 Launching from Blue Rocks, a beautiful historied fishing village, we'll paddle along the narrow passageways through the maze of rocky islands, which can only be explored by kayak. We paddle by dozens of islands on the way and admire picturesque fishing villages. The calm, clear waters offer many opportunities to see wildlife above and below the surface.
Halfway into the tour, we'll stop on an island for a beach break and enjoy a snack. After our break, we'll paddle out to "The Rackets". This series of low-lying rocks provides a protected paddling environment, between the islands and the open Atlantic Ocean. It is also home to a healthy seal colony.
Seals, especially the young pups, are curious and often enjoy swimming near visiting kayaks. We'll take some time to allow them to approach and take some pictures without disturbing them. Their curiosity compels them to come out and say "hi" but as they are wild animals, seals are not guaranteed. On the return paddle, we'll follow a different sheltered route, speckled with pauses along the way for stories and wildlife viewing.
This 4-hour kayak tour is offered daily at 9 am - 1 pm. Sometimes a head wind picks up on our return but is still great for paddlers of all ages and experience levels.
$95
PER PERSON
RESERVATION AND WAIVER REQUIRED
Family Friendly
Weather Dependent
Wildlife
Meals provided
DIFFICULTY LEVEL
Easy to Moderate
DEPARTURE/RETURN LOCATION
245 The Point Road, Blue Rocks
DEPARTURE TIME
Please arrive by 8:45 AM for a prompt start time of 9am
RETURN TIME
Approximately 1:00 PM
WHAT TO WEAR
Water friendly clothing including footwear, hat, jacket, sunscreen
INCLUDED
Snack
Professional instructor
Kayaking equipment