PHONE
LOCATION
245 The Point Road
Blue Rocks, Nova Scotia
A truly Nova Scotian experience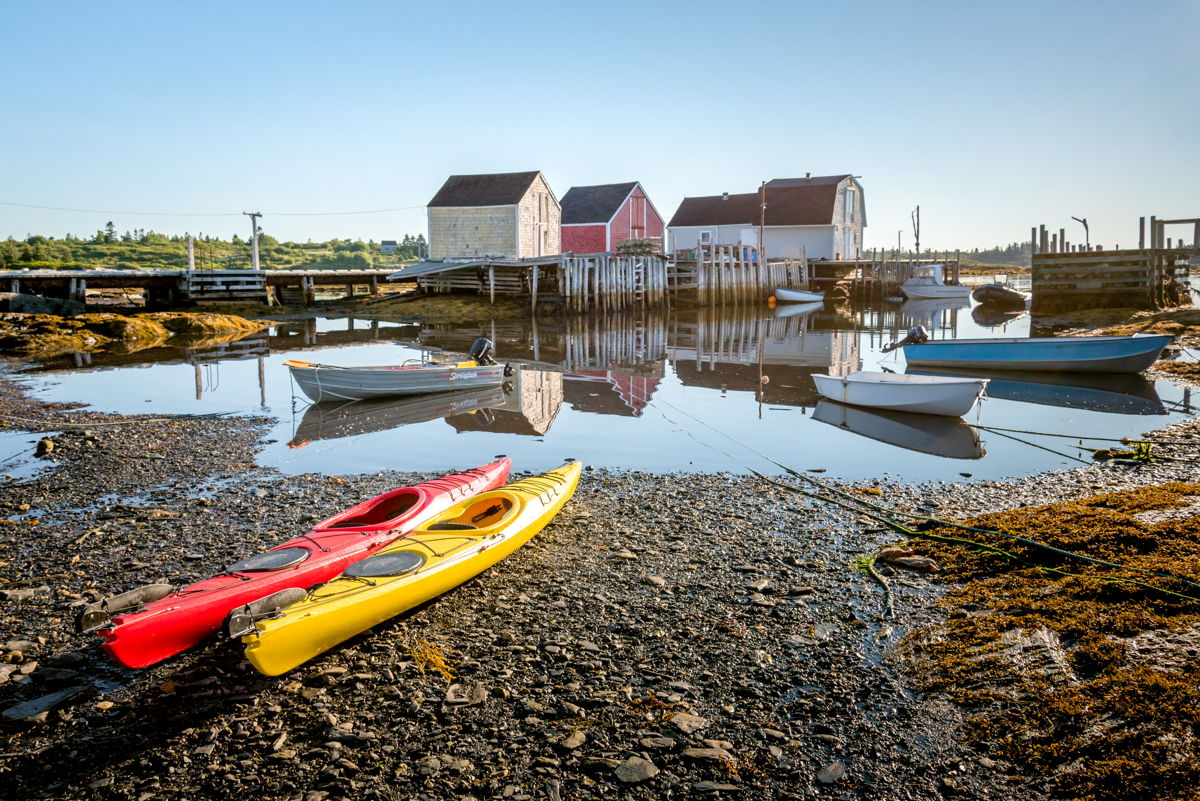 At Pleasant Paddling, we have access to one of the best kayaking locations in Nova Scotia; the islands around Blue Rocks are practically made to paddle a kayak through. Pleasant Paddling opened in 2009 in Lunenburg and from the beginning we offered tours of Blue Rocks. In 2013 we had the opportunity to purchase the launch in Blue Rocks that we were using and moved our office out to the end of The Point Road. Our launch is a slipway in Blue Rocks harbour, one of the most picturesque fishing harbours in Nova Scotia. From Blue Rocks harbour we can safely explore the islands of Blue Rocks and Stonehurst. These islands on the edge of the Atlantic Ocean but provide a protected, family-friendly paddling environment, while offering glimpses of the open ocean.
Our goal as a kayak outfitter is to get people of all experience levels kayaking safely and to show them this wonderful area of the province. Our guides are enthusiastic about kayaking and everything that the islands off Blue Rocks have to offer. These islands make this paddling area unbelievably stunning and we can't wait to show all their secrets to our clients. The smell of the salty air, the low moan of the whistler buoys, the howls of seals, coupled with the slow, quiet movement of the kayak make Blue Rocks an unforgettable paddling experience.
Directions
Our Launch site is 245 The Point Road in Blue Rocks, Nova Scotia.
Leaving Lunenburg you will see a sign to Blue Rocks. Follow the signs to Blue Rocks. Once on the Blue Rocks Road turn right at the first church (about 5 kms) onto The Lane. Next take a left at the water (The Point Road) and drive to the end of the road and you will see us and kayaks at the cul-de-sac.
Large Groups
Have a great time in the outdoors of Nova Scotia sea kayaking with a private group of friends or coworkers. Private group kayak tours are for everyone! Pick one of our guided tour destinations and we'll get you on the water. In a group you can customize your kayaking experience to whatever you're looking for. Office team building events, bachelor/bachelorette parties, overnight excursions, family trips or school outings are all possible. You can pick the length, time of day, destination, time allotted on the beach, pick meals and snack, or just relax and let us take care of it. We will do our best to make your plans happen and get your group paddling!
Minimum of 8 people are required to make a group. Prices are tailored to your group but a 2 hour guided paddle can be as little as $55 per person. Sea kayaking tours include as much or as little training as you want as well as the kayak, safety gear, and a snack.
Please note: our required age to paddle a single kayak is 13 and over. Youth aged 4-12 must paddle in a double kayak with another paddler older than 12.
Employment
We are looking for new members for our team! If you want to work outdoors in a friendly, fast paced environment, please let us know. We have positions available in our Office Rentals Team and for a Kayak Guide.