Paddle Through The Islands
Our wonderful daily afternoon sea kayak tour. We enjoy pleasant paddling sheltered from wind and waves amongst the islands, and see amazing sights around each bend.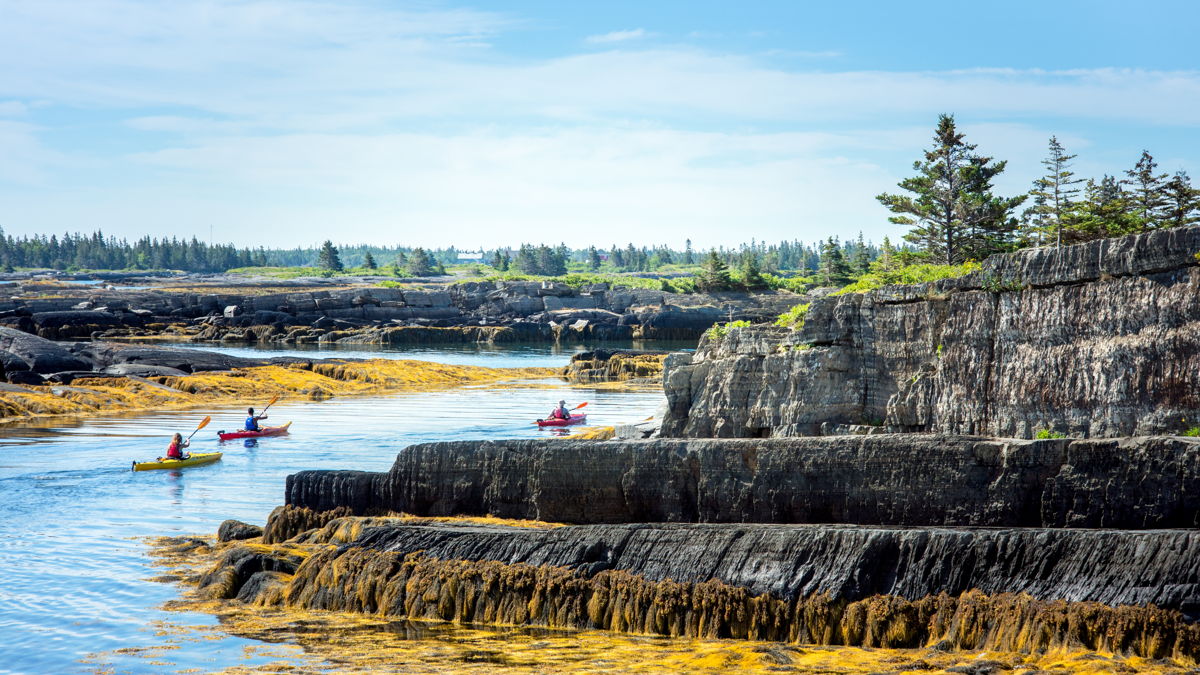 This sea kayak tour meanders through the islands surrounding Blue Rocks & Stonehurst, and showcases why this is the best paddling area in Nova Scotia. Islands! So many islands! These islands make a first-rate sea kayaking destination which provide a protected paddling environment, while offering glimpses of the open ocean.
Launching from Blue Rocks, one of the most scenic fishing villages on the east coast, this tour delves into the surrounding rocky islands. Paddlers will immediately feel they have entered the wilderness. Using the narrow canals and passageways for protection, we will weave through island after island offering unique views at every turn.
Throughout the tour, you'll stop to learn about the flora and fauna--from the bright yellow seaweed, and colourful shells to the blue and grey hues of the rocky landscape. We'll also stop on one of the islands for a chance to stretch, explore a secluded beach, and have a snack. On the return paddle, we'll follow a different, sheltered, zigzagging route, speckled with pauses along the way for stories and wildlife viewing.
This 3-hour guided sea kayak tour is offered daily from 2 pm until 5pm and is perfect for paddlers of all ages and experience levels.
$79
PER PERSON
RESERVATION AND WAIVER REQUIRED
Family Friendly
Weather Dependent
Wildlife
Meals provided
DEPARTURE/RETURN LOCATION
245 The Point Road, Blue Rocks
DEPARTURE TIME
Please arrive by 145pm for a 2pm start
RETURN TIME
Approximately 5pm
WHAT TO WEAR
Water friendly clothing and footwear, hat, jacket, sunscreen
INCLUDED
Snack
Professional instructor
All kayaking equipment